We provide rapid response Towing Service & Roadside Assistance serving the Bronx, Yonkers, New Rochelle, Manhattan & Westchester County.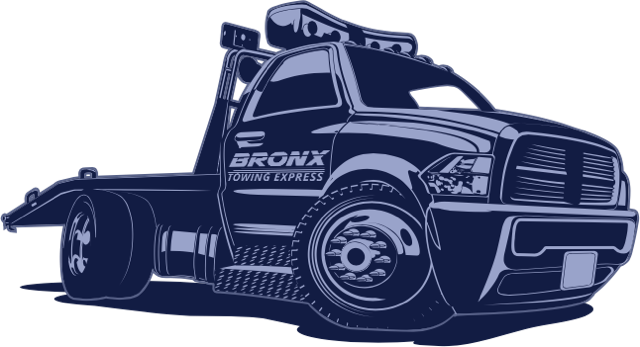 Day or night, Bronx Towing Express will quickly get you back home safely.
When you need a Bronx tow truck company you can count on to take great care of you and your car, van, motorcycle, or light-duty truck, you can trust the pros here at Bronx Towing Express.
Jumpstarts
If you have a dead battery, give our towing company and roadside assistance a call today. We will give you a jump start.

Lockout Service
Are you locked out of your vehicle? No problem, call now, get your vehicle unlocked, and you will be back on your way!

Tire Repairs
Tires can go flat at the worst times. Call us for help with flat tire repair in The Bronx.
Bronx Towing Express is more than a towing company; we're your on-the-road partners. In addition to towing services, we offer a variety of solutions designed to keep you and your vehicle safe. We're known throughout The Bronx, Yonkers, Manhattan, New Rochelle & Westchester County because:
Find out why so many Bronx residents choose Bronx Towing Express as the towing company all of their Roadside Assistance needs:
Great company. Great Service. I was stuck in the bronx for 4 hours waiting for mercedes tow service to come no one ever showed. I called them and explained my situation they had a tow truck to me in 10 minutes.
Eric was prompt and efficient, extremely professional and helpful when I in an already stressful situation. AMAZING service
24 Hour Tow Truck Services Bronx, NY
As a driver in the Bronx, we understand so many things could go wrong on the road. These include your car getting into an accident or even breaking down. You could also run out of gas or, even worse, get a flat tire, among others. In these difficult situations, hiring a towing company is the solution to the problem.
However, nothing is more frustrating than contacting a towing company, only for them to arrive there hours later. It will frustrate you and waste your valuable time and money, so you need the best towing company in the Bronx, Bronx Towing Express. The best thing about us is that we provide 24-hour towing services in the BX and its surrounding areas, including New Rochelle, Yonkers, Manhattan, and Westchester County. With this, you do not have to worry about us not showing up when you call in the wee hours of the night.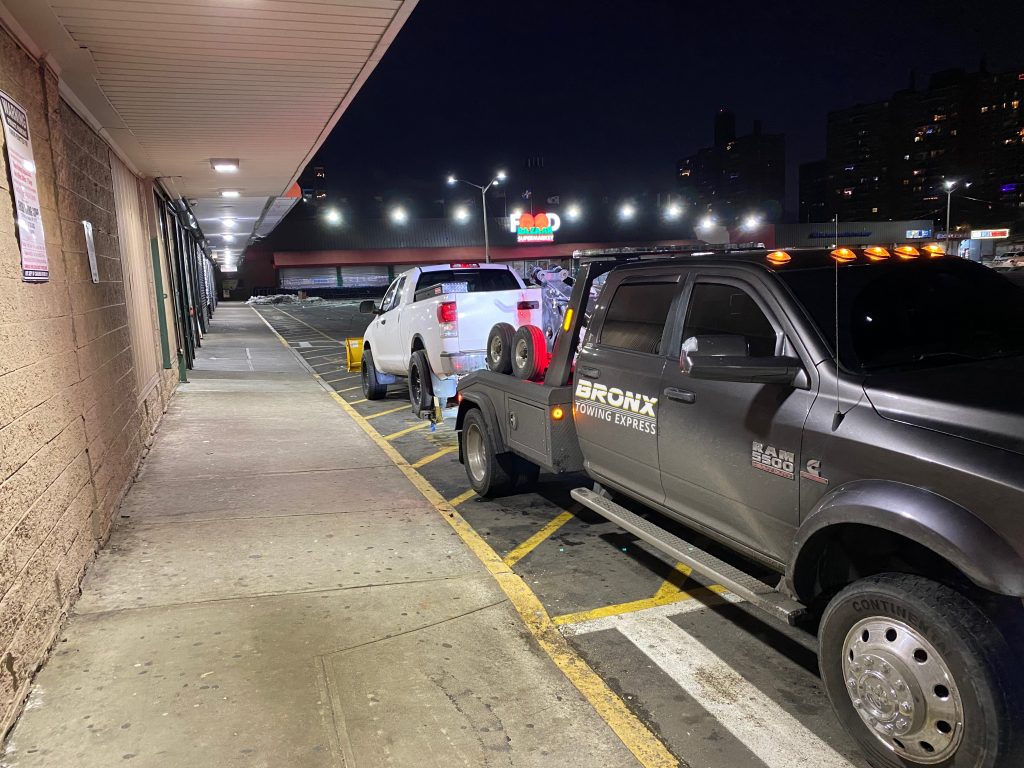 We understand that in these instances, all you need is to continue with the journey. We will make the process smooth for you by ensuring that we arrive on time at the scene. We will also ensure that the driver is well conversant with the area to avoid delays and have top-notch customer service.
You do not need to suffer more than you already have, and we understand that. You can trust us with your vehicle. We will ensure the driver handles it with the right skills and, once he finishes towing it, it will be in perfect condition. All you need to do is trust us, and we will deliver with no disappointments.
Our towing services in The Bronx:
• Winch-Out Services.
Is your car stuck in the mud, and you do not know how to get it out? Worry not; we will help you winch it out. We offer to winch out your car at affordable prices.
• Roadside Assistance.
Do you have a flat tire and want to hire a professional company that does not cost an arm and leg? Then we are the right option for you. We will also offer any other services you might need, such as fuel delivery, change of tires, computer diagnostics, and other roadside repairs. We will get you going soon enough, and you will be able to get to your destination safely and efficiently
• Jump Starting The Car.
Whatever type of car you have, whether light, medium, or heavy-duty, we will help you jump-start it. We will get you ready to continue your journey as soon as possible.
• Locksmith Services.
We all know that losing keys happens at least once in everyone's life, and this is not an exception. If you lose your car keys, contact us, and we will get you a locksmith to sort it out in no time. We can also make copies of keys and fix those locks that give you constant headaches in your house or business.
• Load Shifts And Transfers.
Do you need to transfer your load to another trailer? Then you can trust us and let us do our job efficiently. We will provide a forklift to smoothen this process and ensure that your load gets to the place it needs to be.
• Underwater Recovery.
If you thought that we only offer towing services, you are wrong. We are professional and certified to recover your vehicle underwater. Therefore, you do not have to worry if your car goes underwater, as we have certified divers to sort out the issue before you know it.
Get Your First 10 Miles Free with Bronx Towing Express
Do you need a tow in the BX? Then we are the best option for you. As seen above, we offer a wide range of services, and we are quite affordable; hence, you will not spend all your investments on towing services. The great news about choosing our towing company is that we will give you the first 10 miles free if you are a new customer. Amazing, right? So, what are you waiting for? Call us today and allow us to help you get to your destination quickly and safely, with no problems.
Bronx Towing Express Service Areas
Borough

Neighborhood

ZIP Codes

Bronx

Central Bronx

10453, 10457, 10460

Bronx Park and Fordham

10458, 10467, 10468

High Bridge and Morrisania

10451, 10452, 10456

Hunts Point and Mott Haven

10454, 10455, 10459, 10474

Kingsbridge and Riverdale

10463, 10471

Northeast Bronx

10466, 10469, 10470, 10475

Southeast Bronx

10461, 10462,10464, 10465, 10472, 10473

Brooklyn

Central Brooklyn

11212, 11213, 11216, 11233, 11238

Southwest Brooklyn

11209, 11214, 11228

Borough Park

11204, 11218, 11219, 11230

Canarsie and Flatlands

11234, 11236, 11239

Southern Brooklyn

11223, 11224, 11229, 11235

Northwest Brooklyn

11201, 11205, 11215, 11217, 11231

Flatbush

11203, 11210, 11225, 11226

East New York and New Lots

11207, 11208

Greenpoint

11211, 11222

Sunset Park

11220, 11232

Bushwick and Williamsburg

11206, 11221, 11237

Manhattan

Central Harlem

10026, 10027, 10030, 10037, 10039

Chelsea and Clinton

10001, 10011, 10018, 10019, 10020, 10036

East Harlem

10029, 10035

Gramercy Park and Murray Hill

10010, 10016, 10017, 10022

Greenwich Village and Soho

10012, 10013, 10014

Lower Manhattan

10004, 10005, 10006, 10007, 10038, 10280

Lower East Side

10002, 10003, 10009

Upper East Side

10021, 10028, 10044, 10065, 10075, 10128

Upper West Side

10023, 10024, 10025

Inwood and Washington Heights

10031, 10032, 10033, 10034, 10040

Queens

Northeast Queens

11361, 11362, 11363, 11364

North Queens

11354, 11355, 11356, 11357, 11358, 11359, 11360

Central Queens

11365, 11366, 11367

Jamaica

11412, 11423, 11432, 11433, 11434, 11435, 11436

Northwest Queens

11101, 11102, 11103, 11104, 11105, 11106

West Central Queens

11374, 11375, 11379, 11385

Rockaways

11691, 11692, 11693, 11694, 11695, 11697

Southeast Queens

11004, 11005, 11411, 11413, 11422, 11426, 11427, 11428, 11429

Southwest Queens

11414, 11415, 11416, 11417, 11418, 11419, 11420, 11421

West Queens

11368, 11369, 11370, 11372, 11373, 11377, 11378

Staten Island

Port Richmond

10302, 10303, 10310

South Shore

10306, 10307, 10308, 10309, 10312

Stapleton and St. George

10301, 10304, 10305

Mid-Island

10314