Have you heard the phrase, "Any day you need a towing service isn't a good day?" We have listened to this, and this isn't true. We're a little hurt! 
A towing company does much more than ruin your day because you parked on the wrong side of the street. Our towing service makes it our mission to help the community, not give them a hard time.
Let's look at a few of the most common questions about towing:
Table of Contents
How Much Does it Cost to Tow a Car?
New York residents have a Consumer Bill of Rights that protects them for various things, including being overcharged by a tow truck. A few interesting lines to point out that apply to tow trucks specifically include:
"Charges for the towing of disabled passenger vehicles from an arterial roadway by an arterial tow permittee authorized by the commissioner of transportation or the police commissioner shall be $125 for the first ten miles or fraction thereof, $4 for each additional mile or fraction thereof, and all tools required to be paid while towing the vehicle."
You may worry that your vehicle is too heavy to be towed. Rest assured, this is not the case. Our tow trucks can tow any car that needs to be moved, even if it's a heavy truck. Towing capacity is never an issue when you call Bronx Towing Express!
When you hire a tow truck, the truck often calls it "flat towing." This means all four wheels of your vehicle are off the ground. This is especially helpful if your car has been wrecked in a car accident or has a flat tire, both of which we'll get into more in a bit.
Your car is somewhere you don't want it to be, or it's not allowed to be. A large truck comes, attaches a few cords and hooks, and then leaves – towing your vehicle.
If you get into a collision and your vehicle is no longer safe to drive, you'll likely need to have it towed to a shop for auto repairs. This is far from the only reason to have your vehicle towed.
With the first two steps completed, you can now focus on getting the car out of the way. It's vital to get your car off the side of the road. It's time to call a service that offers car towing in the Bronx. Here at Bronx Towing Express, we offer accident recovery services.
After an accident, you're already not having a good day. You don't need any more stress in an already highly stressful situation. That is why we offer a fast turnaround for accident recovery needs in the Bronx and the surrounding communities. We'll take your vehicle to be repaired at the nearest repair shop or one of your choosing, even if it is a long distance.
How to Choose a Towing Company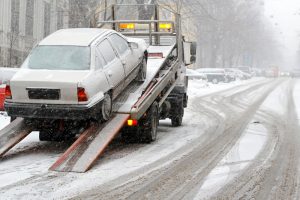 When the tow truck arrives, you'll have to sign some paperwork. This is done for identification, liability, and service agreements. After you sign on the dotted line a few times, you'll receive instructions on what to do to your car. More than likely, the tow truck driver will have you put the vehicle in neutral while they attach a tow rope or hooked chain to it. 
Once the vehicle has been loaded up, you'll be given information on where it's going and what to do next. This is when you will discuss whether it's going to a certain auto repair shop or simply the closest. You have rights here, and not being price-gouged in your time of need is one of them. We will tow it for the first 10 miles for free!
At this point, it's now up to the service garage to fix it. You're all done! Whether you were recently in a car crash or had a flat tire, the tow truck loading up your car and taking it off the side of the road for you is the end to a possibly stressful situation. It will be a relief to see your vehicle safely moved and on its way to the next stage in fixing it!
Can You Tow a Car When the Driver is Sitting in it?
No, this isn't safe. You won't be able to ride in the vehicle when it's being towed from the side of the road to the repair shop. 
Are you left on the side of the road? No way! You can either ride in the tow truck with us or call a ride and meet us at the auto repair shop. You can even go home if you want!
Can my Car Get Towed if it Doesn't Have Tires?
It sure can! Being without tires is a good reason to need your car towed. We would certainly say not having tires count as a roadside emergency. No tires?
What Should I Do While I Wait for the Tow Truck to Arrive?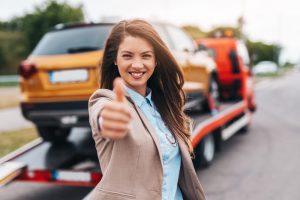 A tow truck will come to the rescue if you run out of gas, have a flat tire, or need help starting your car, a tow truck will come to the rescue. While calling a tow truck is the first thing you should do, it isn't the only thing you should do. A few other things to keep in mind include:
Remove all valuables in the vehicle, including your purse, electronics, vehicle titles, money, jewelry, and other important documents. It's possible your vehicle will be out of your possession for several days or even weeks as it's being repaired.
Make Sure Your Car is Visible
If and when it is safe to do so, get out of your vehicle and make sure other drivers are able to see it. You don't want to make a not-so-great day even worse! You can do so by turning on your car's hazard lights, putting cones around it, or leaving the headlights on. Open your car's hood to let other drivers know your vehicle is broken down. 
Any of these will send the message that there is a stopped vehicle on the side of the road and will cause drivers to slow down to avoid hitting your vehicle.
What is the Difference Between Towing and Hauling?
In the simplest terms possible, towing deals with vehicles, and hauling deals with junk. You would need a hauling service for discarded and unwanted items, like old appliances, furniture, and yard debris. If the vehicle was no longer drivable and you didn't want to pay to make it again, you would call a hauling company.
Bronx Towing Express at Your Service
We're here to help you! Bronx Towing Express is an affordable, reliable tow truck company. Our drivers and roadside assistance specialists will ensure you're back on the road safely in as little time as possible. If someone is blocking your driveway, we'll handle that too!